About Lerwick

The extensive leisure and entertainment facilities provide warm hospitality to visitors. The old waterfront is thronged with pleasure boats, visiting yachts, historic craft and working fishing boats. There's a variety of lively bars and clubs, ranging from popular "theme" bars to more traditional hostelries.
Lerwick is Shetland's only town, with a population of about 7,500 - although about half of the islands' 22,000 people live within 10 miles of the burgh.
Founded as an unofficial marketplace to service 17th century Dutch herring fleets, Lerwick took a long time to grow. Because of its illegal status (and alleged immorality!) the straggling hamlet around the shore of Ler Wick ('muddy bay') was demolished by order of the Scalloway court in 1615 and 1625. The Dutch burnt the fort in 1673 and the French set fire to Lerwick in 1702.
Lerwick is Britain's most northerly town. Over 7,000 people now live in and around this busy port, which makes an ideal centre for touring all the islands.
No-one designed the old town - it just grew - but, up beyond the Hillhead, Victorian architects laid out a "new town" of spacious villas and public parks, dominated by Lerwick Town Hall - a monument to the civic pride of the 1880s. Going west, or "oot ower", the suburban sprawl of the past half century is less picturesque, but housing standards are high.
Lerwick is the commercial and industrial centre of the islands and also the hub of a busy cultural and social life. Shetland Islands Council has its headquarters here and The Shetland Times and two local magazines are printed and published in the town. BBC Radio Shetland broadcasts news, views and an entertainment diary each evening, while a commercial radio station, SIBC, is on air around the clock with music, news bulletins and weather.
A holiday in Shetland is truly special, and we would love to see you here at the Aurora Guest House. Located in the heart of Lerwick and within walking distance of Lerwick's tourist attractions, the Aurora Guest House is an ideal location from which to explore all the islands have to offer.
LOCATION
The Aurora Guest House

The Aurora Guest House is located at:
89 King Harald Street
Lerwick
Shetland
ZE1 0PR
We are located approximatley 1 mile from the Holmsgarth Ferry Terminal where the North Link Ferry docks from Aberdeen. To arrive at the Aurora from the ferry is approximatley a 5 minutes drive or a 20 minute walk.
If you are flying into Shetland and landing at Sumburgh Airport we are approximatley a 40 minute drive, or an hour by public transport. You can use bus number 6 from the Airport to Lerwick, and we are a 5 minute walk from the bus station.
Attractions Near The Aurora Guest House
The Shetland Isles offer a wide range of attractions, from stunning natural scenary, museums and unique wildlife.
A holiday in Shetland is truly special, and we'd love to see you here at the Aurora Guest House. Attractions near the guest house are:-
One mile or less from the guest house:
Restaurants / Bars in Lerwick
King Harald Flower Gardens (Bowls, Tennis and Golf)
Shetland Museum
Lerwick Town Hall
Lerwick Library
Lerwick Central Bus Station
Clickimin Leisure and Sports Centre
Tourist Attractions:
Mousa Broch - 10 Miles - Mousa Broch is the finest surviving Iron Age broch tower.
Jarlshof Prehistoric and Norse Settlement - 19 Miles -
This is an extraordinarily important site with a complex of ancient settlements within three acres.
Tangwick Museum - 27 Miles - The Haa of Tangwick was built in the late 17th century for the Cheyne family. Different aspects of life in Northmavine through the years are illustrated by using a mixture of photographs and artefacts.
Unst - 41 Miles - This estate at the northern tip of Shetland and Britain extends to 4,707 acres. It comprises ten parcels of land, eight of which are on Unst, and includes a number of houses and agricultural buildings.

Nearby Towns
Tingwall - 3 Miles
Easter Quarff - 4 Miles
Quarff - 5 Miles
Scalloway - 5 Miles
Wester Quarff - 5 Miles
Catfirth - 8 Miles
Tresta - 9 Miles
Aith -11 Miles
Twatt - 12 Miles
Further details on Shetland attractions can be viewed on the official visit Shetland website at http://visit.shetland.org/
Shetland wildlife
Experience the excellent wildlife Shetland has to offer
Shetland Wildlife: Puffin
Experience the excellent wildlife Shetland has to offer - Experience the grace of a Puffin
Shetland Wildlife: Killer Whales
Experience the excellent wildlife Shetland has to offer - See Killer Whales swimming in the wild
Shetland Wildlife: Shetland Ponies
Experience the excellent wildlife Shetland has to offer - Shetland Ponies can be seen all over the Shetland Islands
Shetland Wildlife
Experience the excellent wildlife Shetland has to offer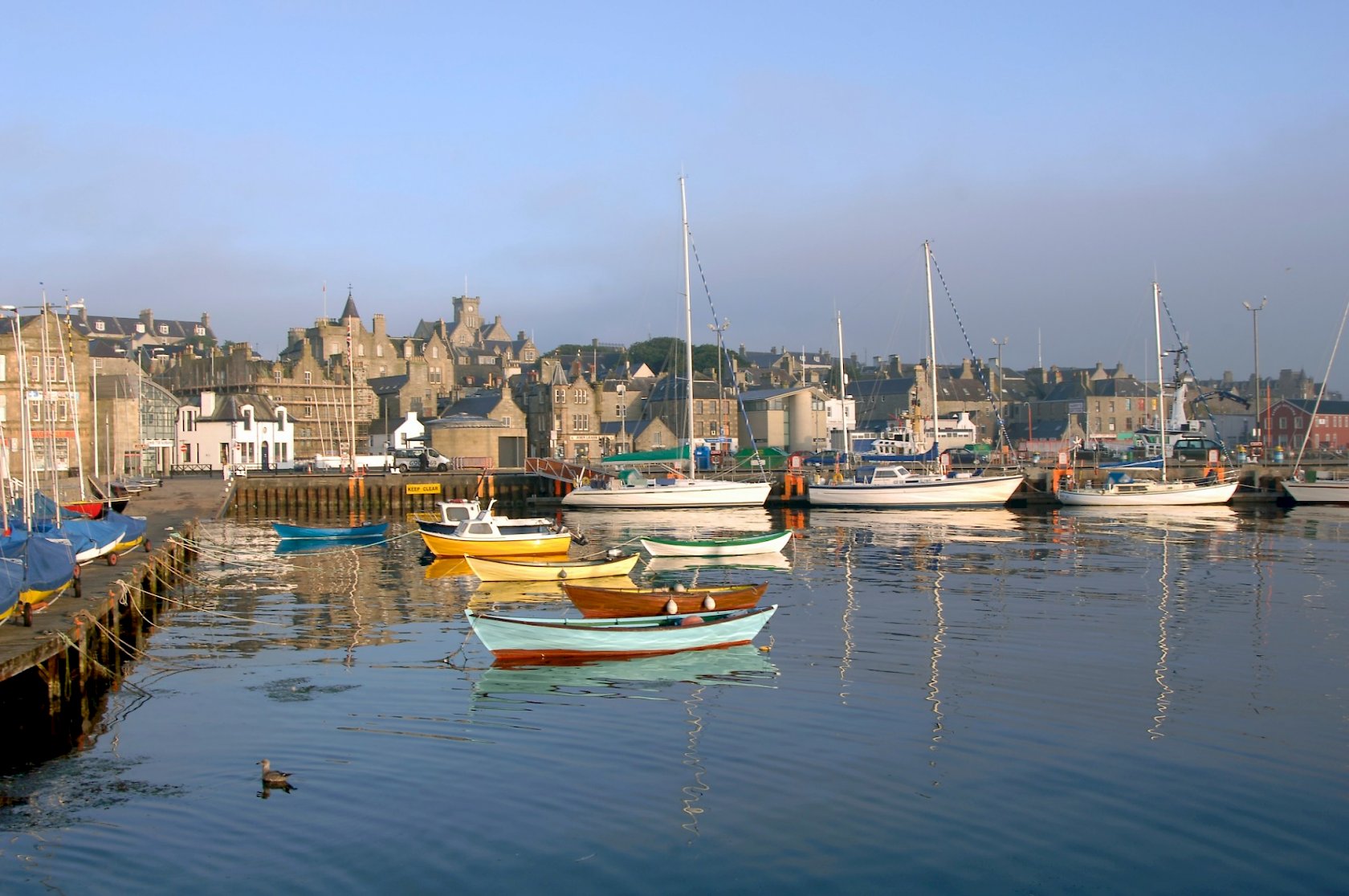 Lerwick Harbour
Explore the delights of Lerwick Harbour
Lerwick Town Centre
Explore the independent and unusual shops in Lerwick town centre
The Valhalla Brewery: Have a sample
The Valhalla Brewery is the most northerly brewery in the United Kingdom. Situated on Unst, Britain's northernmost island, we currently produce 6 fine ales; ideal for real ale drinkers and enthusiasts.
Freshly Caught Fish
Eat freshly caught fish in Lerwick
Bobbys Bus Shelter
One of the most unusual bus shelters you will find anywhere in the UK
Folk Musicians
Lerwick folk musicians entertain the crowd in one of the popular restaurants
King Harald Flower Gardens
The King Harald Flower Gardens offer bowls, tennis and golf, as well as flowers
King Harald Flower Gardens
The King Harald Flower Gardens offer bowls, tennis and golf, as well as flowers
Flower Park in Lerwick
The Flower Park in Lerwick - The park takes on a different look depending on the season
The Shetland Museum
Explore and learn how Shetland was formed
Lerwick Town Hall / Shetland Council
The Lerwick Town Hall
Clickimin Leisure Centre
From a swim to a jog around the athletics track, you can do it all at the Clickimin
Clickimin Leisure Centre
From a swim to a jog around the athletics track, you can do it all at the Clickimin
Mousa Broch
Mousa Broch is the finest surviving Iron Age broch tower
Mousa Broch
Mousa Broch is the finest surviving Iron Age broch tower
Unst Church
Explore Unst - Home to Britain's Most Northerly Church
The delightful beach at Unst
Spend some time in the Shetland sunshine on the delightful beach at Unst
Unst - Saxavord Resort
Expore the delightful surroundings of Saxavord on Unst
Please select an image above
for further informaton